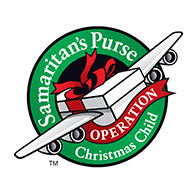 Each year Ernest Myatt Presbyterian Church participates in donating filled shoeboxes for Operation Christmas Child, Samaritan's Purse. The past few years we have donated over 300 shoeboxes.
For 2017, our goal is 100.
Here are some helpful links for packing your shoeboxes.
Suggestions on what to put in the shoebox
 
Do Not Include
Candy; toothpaste; shampoo; used or damaged items; war-related items such as toy guns, knives, or military figures; chocolate or food; seeds; fruit rolls or other fruit snacks; drink mixes (powdered or liquid); liquids or lotions; medications or vitamins; breakable items such as snow globes or glass containers; aerosol cans.
FAQ: Can This Go in My Shoebox? ⇢
Follow Your Box – Pay shipping online and print your shipping label barcode for the boxes and you will be notified by email where your box ends up.
Operation Christmas Child video links