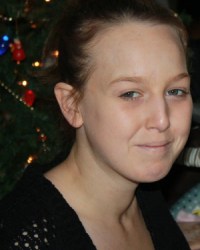 Brittany Elise Mead
---
---
05/11/1989 ~ 10/13/2017
Brittany Mead passed away unexpectedly on Friday, October 13, 2017 at Duke Hospital in Durham, North Carolina. Brittany was born in Hudson, New York, on a beautiful Thursday morning before Mother's Day.  A perfect gift from God for Tracy Chandler and William Mead.
Brittany was raised in North Carolina and at the young age of 16 was diagnosed with Lupus.  She attended her Senior Year and graduated at Rhinebeck High school in New York.  She returned to NC after graduating and found her love for working in films.  She loved life on set, the people she met and one of her greatest moments was when Director Eli Roth gave her a personal "Good job" for her featured part in South of Hell.  In addition to acting, Brittany loved volunteering at the NC Theater, traveling, football, cooking shows and had planned to open a diner with her mom for a legacy to leave for her greatest accomplishment, her daughter Serenity.  In 2011 Brittany's complications with lupus started to increase.  Visits to the hospital became normal for Brittany but she refused to back down, giving lupus power over her.  Each day, Brittany courageously chose to fight her illness and continue living.
Brittany was preceded in death only by her great grandparents Kenneth & Doris Chandler and her Papa Arthur Mead.
She leaves behind her greatest love, her 6 year old daughter, Serenity, her heartbroken mom, Tracy Chandler, a loving father William Mead of New York, her devastated brother Sean Chandler of Wake Forest, two sisters Alexandra and Amanda of New York, grandmothers Geraldine Hildebrandt of Wake Forest and Barbara Mead of New York.  Also surviving are aunts Cindy Mead & husband Mike Horning of New York; Karen Buffaloe & husband David of Raleigh; Margaret Sanders & husband Rodney of Clayton; uncles Dale Mead of North Carolina; Richard Chandler & wife Joanna of Vermont; great uncle Allen Chandler of Nevada.  Also left behind are her cousins & best friends – Danny Mead (Chelsea & Marley); Dave Mead (Kailyn & Connor); Shannon Vanwagner (Kaylee); Jordan, Hayden, Jonah and Haley Buffaloe; Javon and Jaxon Sanders, and Kenneth and Susan Chandler.
Visitation will be held on Friday, October 20th from 6:00-8:00 p.m. at Ernest Myatt Presbyterian Church, Raleigh.
A Celebration of Brittany's life will take place on Saturday, October 21st at 4:00 p.m. at Ernest Myatt Presbyterian Church, Raleigh
In lieu of flowers donations can be made to the LUPUS Foundation at lupus.org in Brittany's name or contact Karen Buffaloe at dandkbuffaloe@gmail.com to make donations to a trust set up for Brittany's daughter Serenity.
---
Visitation
10/20/2017
6:00 PM – 8:00 PM
Ernest Myatt Presbyterian Church
Raleigh
Service
10/21/2017
4:00 pm
Ernest Myatt Presbyterian Church
Raleigh